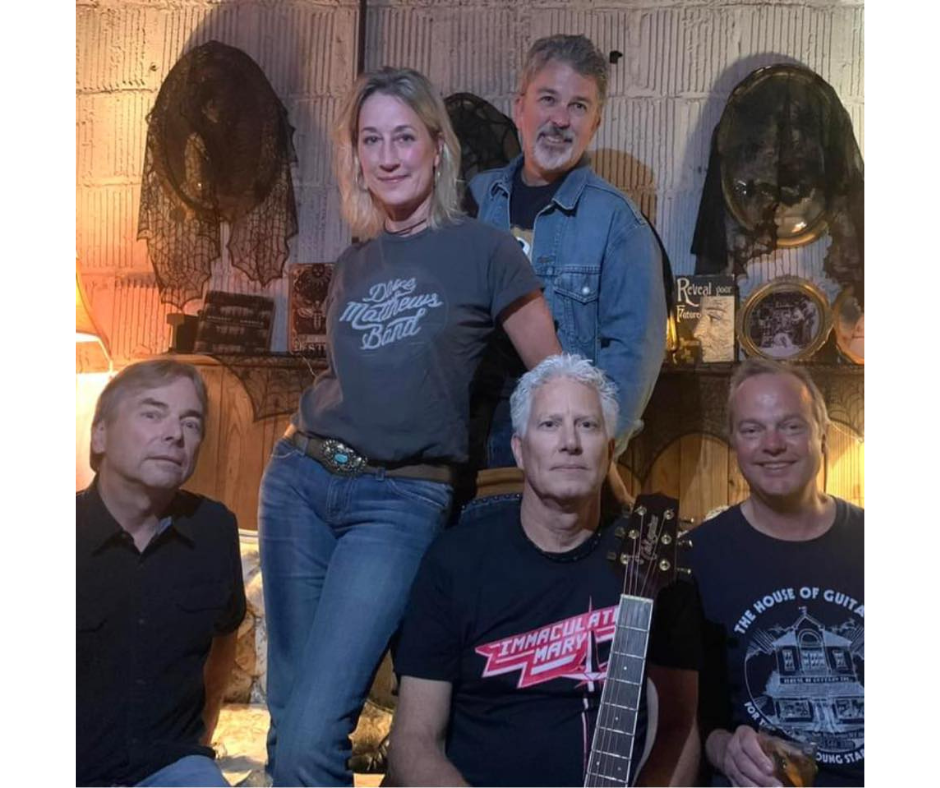 An Interview With Shades Of Grey
Seneca Lake Resorts will be welcoming back to The Vista Shades of Grey on June 16th. Before their performance, we caught up with the band's lead singer, Mike Speranza, to learn more about the group and their upcoming performance. Mike has played at the venue twice as a solo act and twice with the group, saying, "The venue is cool.  The tent is perfect, with a great stage, very band-friendly.  The view of the lake is incredible, and the people were amazing, so friendly and welcoming. We love the venue and look forward to putting on more fun shows.  We love to entertain, see smiling, singing faces, and see people just relaxing and having fun. I feel like we're enhancing their vacations."
"We're always adding new songs to our set list," Mike said, when asked what the group has been up to since we last saw them. "One of the comments that we get most is 'You guys play everything!' And we do.  We don't get stuck in any particular genre.  We all have different musical tastes, and we play what we like.  That's what makes the performance.  We play new rock, classic rock, country, Americana, whatever we hear that we like.  We've also written a few songs, just fun stuff like "Swim-up Bar", "Blender Drinks", "Gin Joint a Go-Go." Obviously from the titles, you know that they're just fun. Since last Summer at Seneca Lake, we've played East Rochester and Victor town concert series.  We love Marge's in Seabreeze. Buntsy's and Iron Smoke in the Rochester area are two of our favorites as well."
Shades of Grey is composed of I'm Mike Speranza. "I'm the lead singer and rhythm guitar player.  I've been playing on and off since I was a kid.  I love REO Speedwagon, Tom Petty and Chris Stapleton.  So those artists are always in the set.
Karen Flack is our fiddle player and backup singer.  She sings lead vocals on a few songs as well, and we do some songs together.  We also play a short set of just the two of us together, while the other guys take a quick break.
Charlie Trahan is our lead guitar player. This guy is my guitar hero! He's incredible. He's been playing for years and among other bands, he was in a band years ago with spandex and rockstar hair!  He doesn't say much about those years though! Charlie is also a great backup singer, adding superb harmonies to many of our songs.  He plays country music as well.  In fact, I haven't been able to find anything that he can't play!
Dan Eberth is our bass player.  His attention to detail and ability to keep "the groove" is impeccable.  Dan keeps us all honest and is always true to the music.  He also sings backup and can jump in on lead vocals when we need him to.
Finally, Dave Williams is our drummer.  Dave has played for years and is comfortable playing rock, country, disco, or whatever!  He is so much fun too.  My back is always to him while we play, but I know he's always smiling.  Audience members always comment on that.  Dave always has fun playing.
I'd be remiss if I didn't mention our good friend and soundman, Mike Ferguson. Mike has a great ear and is constantly learning, evolving, and enhancing our sound. He is truly a part of the band.
The audience can expect a super fun show full of songs that they know.  I always say, 'If you don't like this song, hang on, because you'll like the next one' They can expect a wide variety of music and we're always family friendly.  We love seeing the kids there.  One or more of us will always jump off the stage and dance with the kids or toss them a tambourine. The bottom line is that we are very excited to be a part of the Seneca Lake Resorts!"