Marina
Book Your Transient Boat Slip Now
For seasonal boat slip inquiries, please contact our office at 315.651.4949 for available slips and rates.
Recreational Boating and Vacationing on Seneca Lake
Home of the newest and largest marinas on Seneca Lake, Seneca Lake Resorts' Sampson Park location offers seasonal and transient boat slips in a park-like setting. Whether you plan to fish for Seneca Lake's famous lake trout, cool off in the waves on your personal watercraft, or just want to soak in the stunning sunsets, the Seneca Lake Resorts marina at New York's Sampson State Park, located on the eastern shore of Seneca Lake, welcomes you with all the amenities for a comfortable, relaxing stay.
Seneca Lake Resorts' Marina at Sampson State Park
The Seneca Lake Resorts' marina at Sampson State Park is a premier Finger Lakes marina offering utility accommodations for any size vessel, including:
90 new seasonal and transient boat slips.
All new docks, landscaping, and sidewalks.
Accessible modern bath facilities.
New gas dock.
Hookups for electricity, water, and pump-out stations.
Large multiple launch site providing easy access to the vast, clean waters of Seneca Lake.
Use of fully appointed bath house
Transient Slip Rentals
Click link above to book your Transient Slip stay at Sampson.
Arrivals between 8am – 6pm, please check-in at the Ship Store.
After-hours arrivals, please use the map listed below to find your boat slip.
Guests that book a transient boat slip will have use of our newly reconstructed boat launch ramp and dedicated parking lot.
Gas dock hours of operation:
Closed for the season.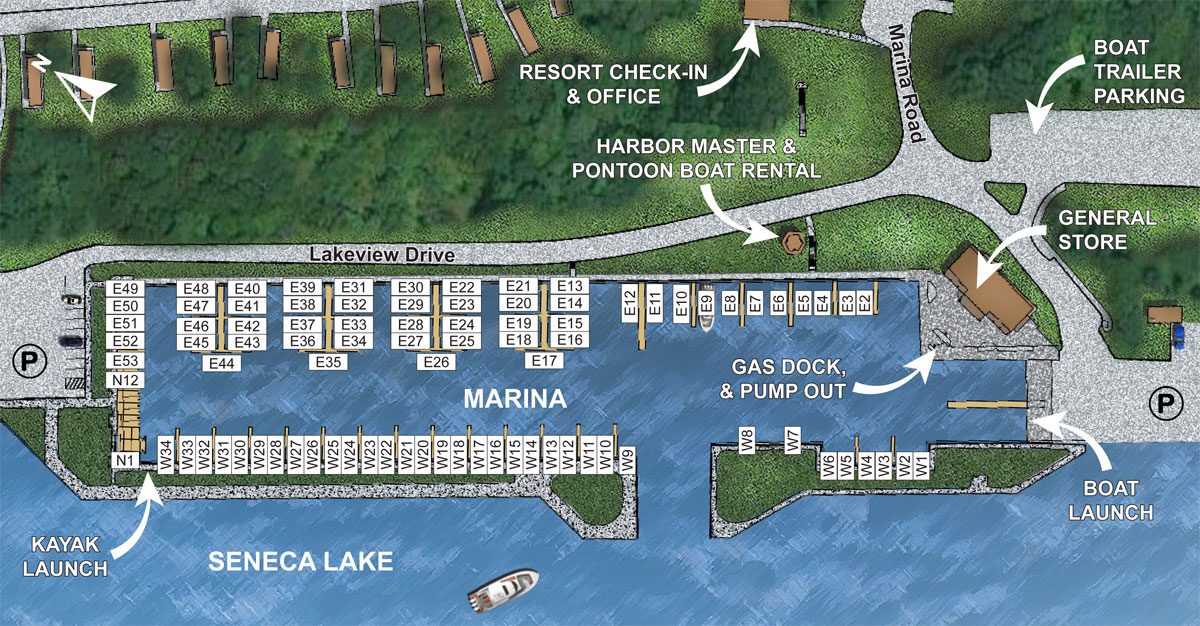 View the map of the dock layout PDF file.