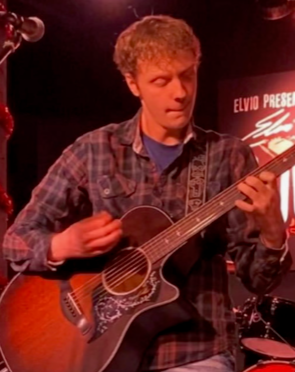 An Interview With Spencer Samolis
We spoke with Spencer Samolis, a new face to The Vista, about his debut Vista performance on May 19th. "I'm excited and thankful to be a part of the Seneca Lake Resort music scene," he told us.
"Seneca Lake Resorts is a great vacation or weekend getaway to enjoy the Finger Lakes.  I am honored to be a part of the Live at the Vista Concert Series. I look forward to playing in a resort atmosphere and can't wait to have the crowd get involved with my songs by singing along."
"I have been working on writing original music and continue to learn new music from all genres," Spencer said. "Over the last year, I have been performing in over 100 venues from Western NY to the North Country including wineries, breweries, restaurants, marina's, campgrounds and private parties."
This Honeoye, NY, native may only be 21, but spencer tells us her has been playing electric and acoustic guitar for 14 years, "in which time I also became a self- taught singer."
Spencer has performed in over 100 venues from "the Finger Lakes to the North Country."
"Since 2021, I have been coached by some of the best musicians in Rochester, including ROC Academy founder Elvio Fernandes.  In 2022, I performed with Jackson Stokes of the Jackson Stokes Band and Devon Allman Band, Josh Strickland of the Bayou Bandits, as well as blues singer and guitarist Jonathan "Boogie" Long.  I also opened for national touring artist Erin Coburn."
Spencer says he was influenced by the music his parents grew up with and shared with him. "My music consists of classic, contemporary and soft rock, oldies and country.  My favorite artists are Tom Petty, Chris Stapleton, Bob Dylan, Eric Clapton, and the Beatles, to name a few. I always strive to do a show that makes the audience want to come back for more. I love to play in front of a huge crowd or a small intimate crowd, and I am so grateful for the opportunity."
When Spencer's not performing, He spends his time as a Student One to One Aide for Wayne Finger Lakes BOCES at Midlakes Education Center, in his second year working there. "I feel I am making a difference in children's lives," he told us.
You can check out Spencer's Facebook page at "SPENCER SAMOLIS MUSIC", for videos, pictures and event information.