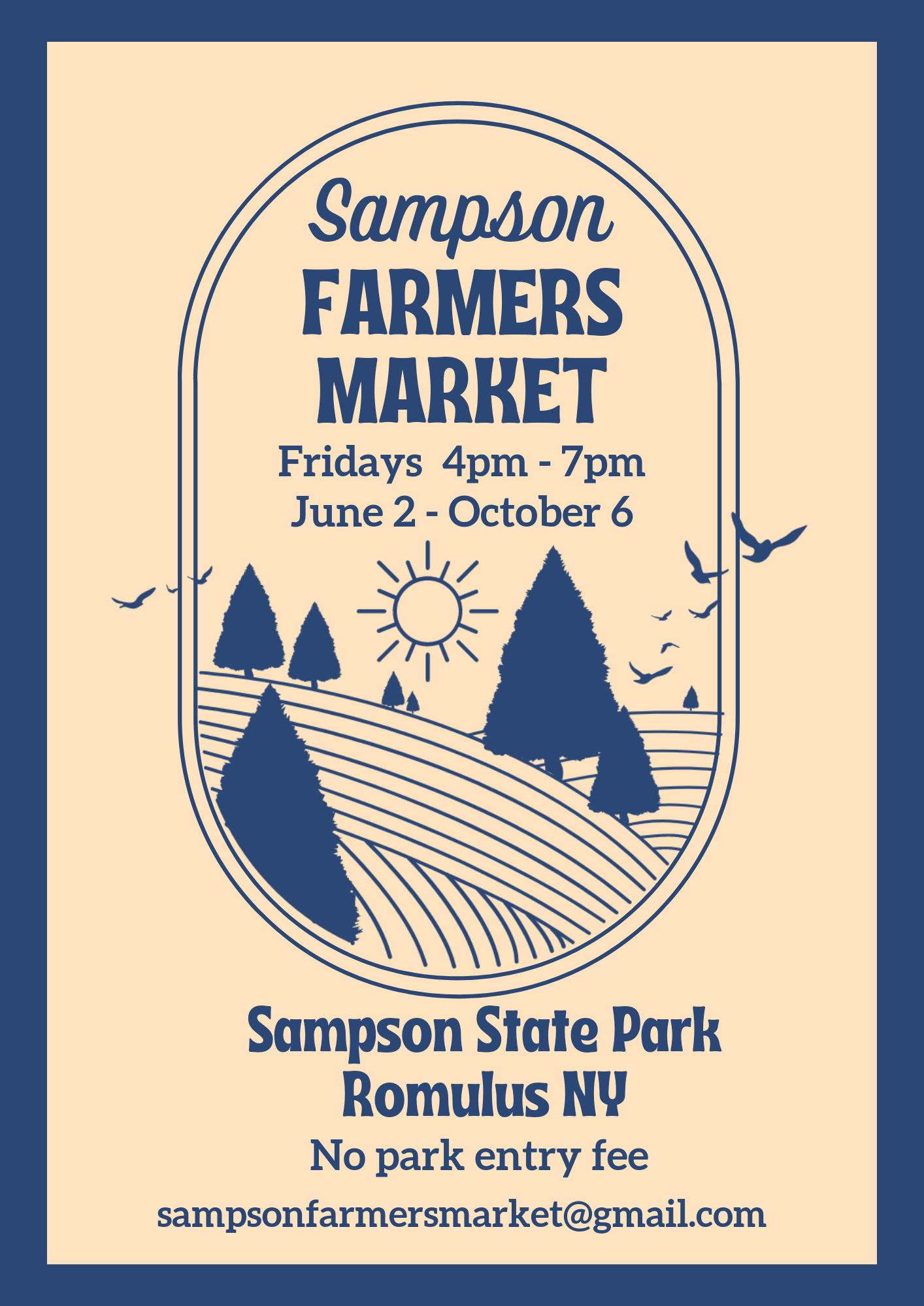 Sampson Farmers Market Returns
The Sampson Farmers Market is returning for its second year. We spoke with the operator of the Sampson Farmers Market, Natalie Baris, who was recently named person of the year by the Trumansburg Chamber of Commerce for her work at the terrific Trumansburg farmer's market.
Natalie created the Sampson Farmers Market in 2022. It is the first Farmers Market to be held within a New York State Park. "It was my dream to have a market at a campground," she told us. "So here it is!"
"Sampson is my local park, and my favorite," Natalie said on why she chose Sampson. "Also, there is no entry fee to Sampson, so not only can campers and patrons enjoy the market, but locals too."
If it's your first time visiting the market, you can expect to find a variety of local produce, artisans, and craft beverages including wine, beer, and cider.
"The best reason to visit any market," Natalie told us, "Is to support local farmers and makers!"
"Returning vendors, and both returning and new customers," are what Natalie is looking forward to the most with the market's second season, "and hopefully an uptick in both," she added.
Natalie spoke about the continued partnership between the market and SLR, saying, "The Sampson Farmers Market and Seneca Lake Resorts see value in both entities working together to help promote and grow each other," Natalie told us. "I think they compliment each other well."
The farmers market will take place within Sampson State Park, Fridays, from 4pm to 7pm, beginning on June 2nd and ending on October 6th. This perfectly coincides with Seneca Lake Resort's Live at The Vista concert series which takes place at our Vista events venue from 6pm to 9pm every Friday from May 5th to October 6th. Together, these two events work out to give you the perfect day on the lake. You can stop by the farmers market and find some great local crafts, snacks, and beverages, then just as it's wrapping up, our waterfront concert is beginning where you'll find great music, delicious food from one of our local food trucks, and cold beverages served by our friendly staff.